About SYRCL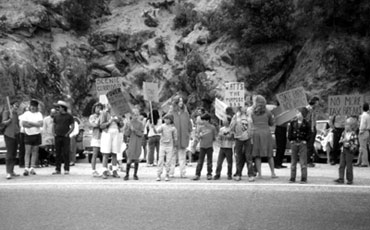 In 1983, a small group of concerned citizens banded together to oppose the construction of two dams on the South Yuba River. Over a quarter century and thousands of supporters later, the South Yuba River Citizens League (SYRCL, pronounced "circle") stands stronger than ever. The dam projects have been defeated and 39 miles of the South Yuba have become permanently protected through state Wild and Scenic designation. A small community demonstrated that people can make a difference – people can protect the place in which they live, work and play.
Today, SYRCL is a vibrant community organization leading a range of river and watershed programs.  In addition to producing the Wild & Scenic Film Festival, we're organizing a national campaign for the restoration of California's wild Chinook salmon, beginning with the threatened populations in the lower Yuba River. While boldly advocating for the re-introduction of salmon above dams, we work in a number of collaborative science forums with public agencies and are key supporters of the Calling Back the Salmon ceremony of the Tsi-Akim Maidu tribe. We coordinate the largest citizen-based river monitoring program in the state and host other events for the community throughout the year, including the Greater Yuba River Clean-Up that organizes over 700 volunteers in an annual litter removal project.
SYRCL's mission is to protect and restore the Yuba River and Greater Yuba Watershed and continue to be recognized as one of the largest and most effective single-watershed groups in the United States.  Learn more.  Become a member.  Visit our YubaRiver.org website.