September 18, 2014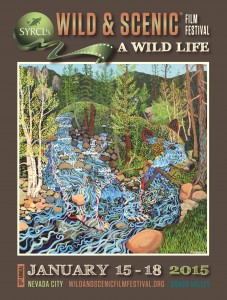 The Wild & Scenic Film Festival team had a lot of fun and some hard decisions to make to determine just one winner and one honorable mention in our Poster Art Contest for the 2015  Festival.  The talent in our community never ceases to amaze—we'd like to thank all participating artists. 
Our winner is Jude Bischoff's, American River Bear, a 48"x48" oil on canvas.  This work of art will adorn the official poster and all collateral material affiliated with the 2015 Wild & Scenic Film Festival.
"Bischoff's image is not only stunning but incorporates one interpretation of our theme, A Wild Life, to a tee," says Melinda Booth, Festival Director.  "We're proud to have this image brand the 2015 festival both locally and across the globe with our On Tour Program."
An honorable mention was awarded to Linda Galusha's mixed medium work, A Wild Life with Aspens.
Look for work by these artists at the 2015 Festival happening January 15-18, 2015 in Nevada City and Grass Valley.