July 29, 2015
Nevada Theatre Film Series
Nevada County Climate Change Coalition
and SYRCL's Wild & Scenic Film Festival present:
MERCHANTS OF DOUBT
Science Versus the Calculated Climate Denial Campaign
a film by Robert Kenner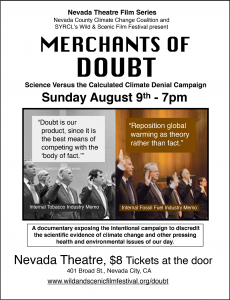 Inspired by the acclaimed book by Naomi Oreskes and Erik Conway, MERCHANTS OF DOUBT takes audiences on a satirically comedic, yet illuminating ride into the heart of conjuring American spin. Filmmaker Robert Kenner lifts the curtain on a secretive group of highly charismatic, silver- tongued pundits-for-hire who present themselves in the media as scientific authorities – yet have the contrary aim of spreading maximum confusion about well-studied public threats ranging from toxic chemicals to pharmaceuticals to climate change.
Directed by Robert Kenner, who has won an array of awards and garnered rave reviews for his documentary work exposing some of today's least talked of, but most impactful, social and environmental issues. Considered a craftsman of documentaries, his film FOOD, INC. was nominated for an Academy Award and won two Emmys.
When: Sunday, August 9th, 2015
Time: 7 pm
Location: The Nevada Theatre, 401 Broad Street, Nevada City
Tickets: $8, available at the door
More Info: http://www.sierracinemas.com/movie_detail.asp?movie_id=193220
http://sonyclassics.com/merchantsofdoubt/