Getting Here
Visiting Nevada City:
We invite you to be a part of this wonderful event in our special community. The beautiful and quaint town of Nevada City, California, offers not only a perfect setting to frame these inspiring films, but also a unique place to relax and enjoy a variety of historic sites and recreational opportunities. Several minutes drive from Grass Valley, we are now expanding the festival to our neighboring town and will offer sessions and events at the Center for the Arts and Del Oro Theatre. We are also just a short drive from Sacramento, Reno, and San Francisco. The 2014 Wild and Scenic Film Festival promises to be an unforgettable and inspiring event that you won't want to miss.
The festival takes place Thursday-Sunday, January 9-12, 2014, mainly at the several historic venues in Nevada City: Miners Foundry Cultural Center, the Oddfellows Hall, City Hall, the Veteran's Hall, the Stonehouse, the Haven, Yuba River Charter School's auditorium and the Nevada Theatre, all in downtown Nevada City. As previously mentioned, you also now have the option to attend several sessions in Grass Valley, at the Del Oro Theater and the Center for the Arts.  Plus, there will be a variety of other happenings in wineries, shops and restaurants throughout both towns. Scroll down for directions.
Nevada City, nestled in the foothills of the Sierra Nevada mountains in Northern California, has become a mecca for history, culture and adventure enthusiasts. Once the center of the gold rush in California, Nevada City has retained its charming historical district and small town feel. Yet, Nevada City is not a museum, it is a hub of activity. Business, arts, sports, and entertainment of every variety occur on and around the streets of the town. There are lots of places to stay, first-rate restaurants, and events that draw visitors from far and near. You can always find music, theater, sightseeing, and shopping to fill your days while you are here. Whether it is for a weekend getaway or a two-week vacation, Nevada City is a destination of choice.
For more information about lodging, dining, and recreation in Nevada County check out: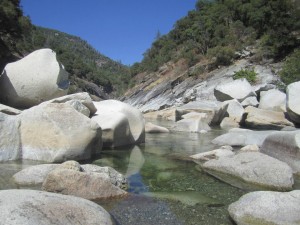 Drive only minutes from town and you'll find the incredible South Yuba River, the inspiration for the festival and the reason why the South Yuba River Citizens League exists. Drive up the hill away from town and you'll find yourself amidst the pines high in the Sierra. The pleasant town of Truckee is only 45 minutes away and the beautiful Lake Tahoe only one hour. Year round outdoor activities include hiking, mountain biking, downhill and cross-country skiing, snowshoeing, and climbing.
Directions to the South Fork of the Yuba River at the Hwy 49 crossing from downtown Nevada City: go west out of town, following Broad Street uphill; veer either left or right when Broad St. forks (both lead to the highway); and turn left at the junction with 49, going north towards Downieville. Drive for 7 miles until you see the sign for parking at the 49 river crossing.
Thinking about visiting the river? Join the Rivers for Change special event and raft down the river! Meet at 9AM at Hammond Park: Bring your own boat! More info on the Special Events page (Coming Soon)!
Directions:
From Sacramento: Take I-80 east to Auburn. Exit in Auburn at Hwy 49 towards Grass Valley & Nevada City. Follow 49 about 26 miles to Grass Valley & Nevada City. Go past Grass Valley and into Nevada City. Exit Broad Street (directly after Sacramento Street) and turn left over the freeway.
From Reno: Take I-80 past Truckee. Past Donner Summit WHERE I-80 and Hwy 20 meet, exit on Hwy 20 towards Nevada City. Follow down into Nevada City. Exit Coyote Street and turn left. Follow down past post office, to 2nd stop sign. Turn right on Broad Street.
From Redding: Follow Hwy 20 from I-5 through Yuba City and Marysville and into Grass Valley. Merge onto Hwy 20/49 towards Nevada City. In Nevada City, exit Broad Street and turn left over the freeway.
For more information about Nevada City, visit the Nevada City Chamber of  Commerce website.