Film Library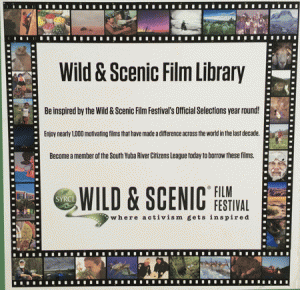 Be inspired by the Wild & Scenic Film Festival's Official Selections year round!
Many films featured at past festivals are available for members of the South Yuba River Citizens League to borrow. To check out a film, become a member. Then, visit the South Yuba River Citizens League (SYRCL) main office at 313 Railroad Ave., Nevada City. We only offer this service for local members — WE CANNOT MAIL ANY FILMS.  Thanks for your understanding.
SYRCL's Wild & Scenic Film Library has been recently updated. Please review our current rental policy:
Films may only be viewed for private purposes. For other purposes (i.e. public showings) you must contact our Festival Director.
Film rentals are free for current SYRCL members
Rentals are for ONE WEEK only
Rentals are limited to three films at any given time
Please take care of the DVDs and do not leave them where they may be damaged
Films are now organized alphabetically by year.
If you are looking for a specific film but are unsure of the year the film was screened at the Wild & Scenic Film Festival, please review the Wild & Scenic Films Organized by Alphabetical Order document.
Looking for a film based on its genre, such as rivers? Look at the Films Organized by Genre document.
Want to view Wild & Scenic Award Winning Films? Review the Award Winners Film Information document.
Note: These documents are also available in a printed version in the South Yuba River Citizens League Main Office.
To check out a film:  please fill out the film check out slip with the required information and place the paper where the DVD was. This allows us to easily know where the film is. Place the DVD in a case located beneath the binders.
To return your film:  look at the colored circle sticker on the DVD displaying the film's year. Please place the DVD back in the appropriate year's binder in the slot labeled with the film title. Return the case to where you found it. You may then recycle the slip with your information. If you are confused, please place the DVD in the film return box.
Note: Should a film be listed as "Not Available" this means the film is not available to borrow due to its distribution requirements. If the film is listed as "Missing" it is missing and we don't have another copy! Please return your films to avoid losing more films in the future.
Thank you and enjoy!