Special Events
2015 Special Events COMING SOON!

In addition to over 120 incredible films, there will be live music, workshops, performance, art, parties and so much more throughout the festival weekend!
Here are the exciting Special Events from 2014!
WEDNESDAY & THURSDAY MORNING WILD & SCENIC SCHOOL PROGRAM
On Wednesday and Thursday 1500 local students will participate in our Wild &  Scenic School Program at the Del Oro Theater in Grass Valley. Two programs designed to meet California state standards are offered. One for K – 3rd and another focused on 4 – 8th. We want to extend a huge thank you to Sierra Theaters for their generous partnership!
THURSDAY, 7PM: FAMILY-FRIENDLY 3D FILMS!
We'll be screening 3D films for the second year in a special Grass Valley screening at 7:00pm at the historic Del Oro Theater. The films are: Titans of the Ice Age, On the Edge: Antarctica 3D, and Great White Shark. Also join us before the films from 4:30-6:30pm at 151 Union Square (at 151 Mill St.) in Grass Valley for an Opening Art Reception.
FRIDAY MORNING: PADDLE ON THE YUBA WITH RIVERS FOR CHANGE!
Paddle on the Lower Yuba: a Community Conservation Paddle Day with Rivers for Change and SYRCL to kick off the Wild and Scenic Film Festival!
Join Rivers for Change and SYRCL for a paddle day on the lower Yuba River. Bring your own boat, a lunch, and a change of clothes, or join in one of our boats (limited space). Meet at 9am at Hammond Park. We will unload gear at the put in and then run a shuttle to the take out. Paddle goes rain or shine. Charge is $15/adult and $10/kid if you need a space in a boat (free if you bring your own). Participants will be required to sign a liability release. The paddle will be from Hammond Park to Hallwood Blvd. It is a class I/II section with a required portage around Daguerre Point Dam, which is the site of a proposed new hydropower project. You will also have an opportunity to view one of SYRCL's innovative restoration projects, and view gold mining tailings (viewable from outer space) left over from hydraulic mining. It's the perfect chance to get on the river and learn about the Yuba with SYRCL's River Science Director before enjoying a weekend of inspiring films at the Wild and Scenic Film Festival.
Click here to register.
FRIDAY, 4-7PM: OPENING RECEPTION – FREE TO THE PUBLIC
Start the festival off with light hors d'oeuvres, local wine, and beer from Sierra Nevada Brewing Co., on Friday, 4-7pm at Mowen Solinsky Gallery, 225 Broad St., Nevada City.
FRIDAY NIGHT OPENING MUSIC
Arrive early to the venues on Friday and enjoy the music of local musicians, including Beaucoup Chapeaux, Agony Hill, Aaron Ross, George Cutter and Robbert Trice, Goodshield Aguilar and Mignon Geli, Ishaan Judd, and Nory Fussell. For more information about the bands and where they'll be playing, see our music page.
SATURDAY & SUNDAY ACTIVIST WORKSHOPS – FREE TO THE PUBLIC
Learn more about the issues and what you can do, get filmmaking tips from pros, and much more at our Activist Center at Nevada City's City Hall (317 Broad St.) on Saturday and Sunday, open at 9:30am. Check out our workshop page for details about all of the workshops in our Activist Center and at Elixart. Be sure to stop by to meet reps from local and regional organizations tabling in the foyer of the Activist Center.
SATURDAY MORNING KID FILMS
Kids of all ages are invited to attend the Saturday Morning Kid Films session on Saturday, 9:30am-11:30am, at the Del Oro Theater in Grass Valley (doors open at 9am). Tickets are  $8 for adults or children and will be sold (if available) at the box office at the theater (cash only, please). PLEASE NOTE: Saturday Morning Kid Films requires a separate ticket, even if you possess a weekend pass. You may buy your tickets in advance online, at SYRCL, or at the Grass Valley Chamber of Commerce, and we recommend you do buy early… they will sell out!
This year's kid films include: Elk Grass, The Squeekiest Roar, The Scared is Scared, My First Fish, Rock Wall Climbing, Stories of TRUST: Calling for Climate Recovery (Montana, Iowa, and Massachusetts), Human Rights Are For Everyone!, Raptor Blues, Silent Voices, An Inconvenient Youth, and An Inconvenient Youth: Off The Grid.
WINE & ART STROLLS
Nevada County is increasingly known for our fabulous local wine. On Saturday late afternoon in either Grass Valley or Nevada City, take a stroll during the evening break between films and sample local wines (& beer at Festival HQ) and view the work of local artists.
GRASS VALLEY, Saturday 3-5pm: Features five tasting rooms: Smith, 151 Union Square, Lucchesi, Avanguardia, & Sierra Starr. Ticket holders receive ½ price tastings, $3 per person. Also, the following restaurants will waive their corkage fee for dinner Saturday night for wine purchased from one of the tasting rooms: Trattoria Milano, Cirino's, Tofanelli's, The Owl, Kane's, Sergio's, The Holbrooke Hotel Dining Room, Gold Rush Burgers/Tex Mex.
NEVADA CITY, Saturday 4-6pm: Take a stroll during the evening break and sample local wines (& beer at Fest HQ). Enjoy art at venues all over town. Separate ticket required for wine tasting, at Fest HQ. Organized by the Nevada City Chamber of Commerce and Nevada County Arts.
ART SHOWS – FREE TO THE PUBLIC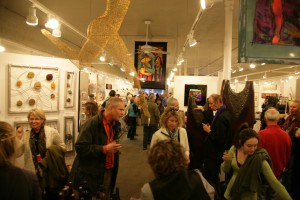 Nevada County is a mecca for talented artists. We are partnering with Nevada County Arts to bring over 48 artists from throughout the Yuba Watershed and beyond that are featured at this years' festival. While sipping your wine or beer, stroll through the art shows and attend the many artists' receptions happening during the wine stroll. Also, visit 151 Union Square in Grass Valley for a special artists reception on Thursday from 4:30-6:30pm, before the 3D Film Session at the Del Oro Theatre. Stop by any SYRCL booth or Fest HQ to pick up a special program listing all of our featured artists and venues, and visit our Art page.
FLO CHALLENGE
Keep your eyes peeled throughout the weekend for Flo, the fish about town. She will be popping up in all sorts of unlikely locations. The person who gets the most accurate Flo sightings will win a weekend pass to the 2015 festival. Pick up your scorecard at any SYRCL booth or Fest HQ.
SATURDAY 10PM: WILD & SCENIC GALA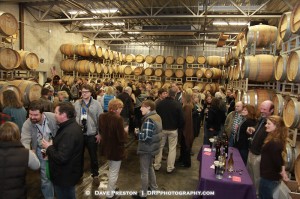 Rub elbows with the festival's special guests and meet other film enthusiasts while enjoying wine and gourmet hors d'oeuvres at the beautiful Nevada City Winery. Saturday evening, 10pm- midnight at the Nevada City Winery, 321 Spring St., Nevada City.
SATURDAY, 10PM: LATE NIGHT MUSIC @ THE STONEHOUSE

Join us after the films on Saturday night for late night music with Dustbowl Revival at the Stonehouse, 107 Sacramento Street, Nevada City. For more information about the band, see our music page. Tickets for this event are $20 and will be available at the door.
FESTIVAL STREET EVENTS – FREE TO THE PUBLIC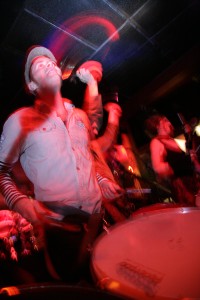 Lower Commercial Street will be closed to cars Saturday and Sunday, and we're turning it into a festival gathering spot. Keep your eyes peeled for live music, theater, and other festivities on Commercial Street throughout the weekend and these musicians on our bicycled powered stage: Cousin Cricket, Norm & Tubby's Hot Club, Thomas Spellman & Friends, The LipBalms, D'Jango & Kyle, Little Violins, and SambaDrop (9:30pm Sat).
Look for: Acro Yoga Performance & Demonstration, Capoeira Demonstration, Interactive Art: "Before I Die" (see below), Frackalicious puppet shows & interactive booth, and sidewalk art by Street 3D Chalk artist Mark Lewis Wagner.
Food carts will be selling soup from Sierra Harvest and tacos from Sierra Native Alliance, plus hot java at the Cafe Mekka Coffee Kiosk
Before I Die…
Before I Die is an interactive public art project that invites people to share their hopes and dreams in public space. After artist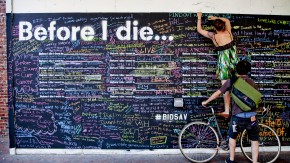 and urban planner Candy Chang lost someone she loved very much, she painted the wall of an abandoned house in her neighborhood in New Orleans with chalkboard paint and stenciled it with a grid of the sentence  "Before I die I want to ______." Passersby can use chalk to write directly on the wall. "Before I Die" will be installed on Commercial Street all on Saturday and Sunday.  Stop by to contribute your thoughts about what's most important to you.
JOHN MUIR "IN PERSON" – FREE




Sunday, 10:30am, Elixart
"John Muir: Empowered by Passion" is a dramatic first-person portrayal of John Muir by Don Baldwin, former Resident Minister in Yosemite. Don appears annually in Yosemite Valley and tours extensively highlighting the power of Muir's  life and legacy in creating parks and protecting wilderness around the world.



SUNDAY 1:15PM: AWARDS CEREMONY
Be the first to learn of the award-winning films, Sunday, 1:15pm, in the Stone Hall of the Foundry. Limited seating. First come, first served. Champagne served, courtesy of Barefoot Winery.
SUNDAY: ECO TOURS – FREE TO THE PUBLIC
Sunday, 10am: Co-Housing
Take a fun tour of Nevada City's unique co-housing project with architect Chuck Durrett on Sunday, 10am, with the option to continue on to Grass Valley to check out Wolf Creek Lodge. Meet in front of the Nevada Theatre.
Sunday, 12pm: Natural History Trail Walk
Take a break from watching films to get out in the natural world. Join Sierra Streams Institute and the Natural History Network, naturalist John Muir Laws (author of "The Laws Field Guide to the Sierra Nevada"), and fellow naturalists for a guided hike along Nevada City's Deer Creek Tribute Trail. In its third year, this hour-long hike will explore the collaboratively constructed Deer Creek Tribute Trail and give participants the opportunity to interact with local ecologists, naturalists, and filmmakers who have done work relating to the growing natural history awareness movement. This hour-long, easy walk will begin at the Miner's Foundry on Sunday at noon and end at 1pm.
COFFEE TALKS – FREE



SATURDAY 8:30am at the CURLY WOLF, COFFEE TALK WITH JOE DONNELLY
Journalist Joe Donnelly recently wrote a wonderful feature for Orion Magazine about California's lone wolf, "OR7," whose presence in remote Plumas County has sparked a hot debate. Hear him talk about the lone lobo and what it was like to report this story; moderated by Orion staff.
SUNDAY 8:30am at the CURLY WOLF, COFFEE TALK WITH TOM XIA
Join the star of the film Xmas Without China, Tom Xia, for a discussion about filmmaking and issues concerning the US and China today.
SUNDAY 7:30PM: AWARD WINNING FILMS AT THE NEVADA THEATRE



In collaboration with the Nevada Theatre Film Series we will be showing a selection of this year's award winning films. Keep your ears open for the line-up after the awards are announced on Sunday at 1:15. This session requires a separate ticket, which you can purchase ahead of time online or at Fest HQ. Sunday, 7:30pm at the Nevada Theatre. This event usually sells out in advance.
SUNDAY NIGHT LIVE MUSIC
Close the Festival with live music by The Belfry Brothers. Sunday, 9pm at the National Hotel. $6.