Enviro Fair
2015 Enviro Fair Participants List COMING SOON!
Inspired by the films and want to take part? Be sure to visit our Enviro Fair at the Activist Center in City Hall for more information about these organizations and how to get involved.
2014 Enviro Fair Participants:

American Rivers is the leading organization working to protect and restore the nation's rivers and streams.  Rivers connect us to each other, nature, and future generations.  Since 1973, American Rivers has fought to preserve these connections, helping protect and restore more than 150,000 miles of rivers through advocacy efforts, on-the-ground projects, and the annual release of America's Most Endangered Rivers®.
Headquartered in Washington, DC, American Rivers has offices across the country and more than 100,000 supporters, members, and volunteers nationwide.
Through our work in five key program areas – Rivers and Global Warming, River Restoration, River Protection, Clean Water and Water Supply – American Rivers is working to protect our remaining natural heritage, undo the damage of the past and create a healthy future for our rivers and future generations.
Founded in 1989, Animal Place fills a much-needed niche of farm animal rescue, sanctuary and adoption with its two facilities. The mission of Animal Place is to extend compassion to all life with a special emphasis on farmed animals. This is executed by providing permanent sanctuary, education, legislation and appropriate placement of needy animals.
Animal Place Sanctuary, Grass Valley, California
Oak knolls, gently sloping hills, beautiful meadows and irrigated pastures make Animal Place's 600-acre sanctuary in the Sierra foothills a true safe haven. All the animals at Animal Place sanctuary are permanent residents, getting an opportunity to grow old.
Animals arrive from myriad sources – factory farms, slaughterhouses, research facilities, and neglect or cruelty cases. All animals find a haven where all their needs are met and their individual quirks respected
In addition to providing sanctuary farmed animals, Animal Place serves as an education and advocacy center. We offer tours, cooking classes and workshops at the sanctuary as well as volunteer and internship opportunities. Because factory farming takes the lives of 10 billion land animals each year in the United States, we promote a vegan, cruelty-free lifestyle. If you are ever in the area, we hope you can sign up for one of our tours and meet the wonderful residents at Animal Place!
Nevada County is endowed with a rich mosaic of beautiful landscapes, healthy forests, historical treasures, and small towns. The land sustains life and replenishes the spirit. Our towns comfort us with timeless charm. Our farms and ranches feed our communities. The quality of life here is tightly connected to these precious resources.
Sierra Foothill communities are changing as open landscapes fill with housing and businesses from urban refugees.  Our vision is to retain the distinct identity of Nevada County's communities for future generations.  It is the Bear Yuba Land Trust commitment to preserve our local history, to sustain our natural resource-based economy, to care for our open land making it accessible for all, and to retain the rural character that has been the source of our prosperity.
Bear Yuba Land Trust exists to create a balance between nature and the needs of the people who make a life and a livelihood here. This is our home.  Our mission is to enrich the deep community connection with our land − today, tomorrow, and forever.
Bear Yuba Land Trust is a private, non-profit, membership-supported group promoting voluntary conservation of our natural, historical and agricultural resources through protection and enhancement of natural areas, farms and ranches, trails and parks to provide a lasting community heritage.
The Buffalo Field Campaign (BFC)  is the only group working in the field, every day, to stop the slaughter and harassment of Yellowstone's wild buffalo. They work with volunteers from around the world to protect the natural habitat of wild free-roaming buffalo as well as native wildlife and to work with people of all Nations to honor the sacredness of the wild buffalo. Our daily patrols stand with the buffalo on the ground they choose to be on, and document every move made against them.
BFC envisions a life for buffalo in which they thrive within the state of inherent wildness as expressed in the Buffalo Bill of Rights. We also envision a world in which buffalo and all other native wildlife are given precedence on public land, and that buffalo herds will remain as a self-regulating sustainable population, and a viable genetic source for the future evolution potential of the species.
Chickenfoot Ranch
The Felidae organization was formed in early 2006 to advance and improve the conservation of wild felids throughout the world. Felidae unites a critical momentum of focus, ambition, intellect, skill, and global strategic action. In an exceptionally productive 7 years, we have raised the bar in felid conservation through research, education and online technologies and have become an established influence in the protection of wild felids.
The Felidae organization is a resourceful, passionate and dedicated team of conservationists who are working to safeguard global ecosystems, with felid species as natural world guardians. Our staff and excellent group of volunteers bring varying skill sets and creativities to our efforts, and we get a lot done on very low overhead. We are always looking for new ways to leverage our complementary skill sets. We have a growing number of projects that volunteers participate in, expanding our reach and helping us introduce the concept of a balanced natural world into every living room, computer screen and smart phone, making our ecosystems a priority to all.

Finding the Good is a multi-faceted 16-week traveling semester program dedicated to the research, study, documentation, and sharing of working models of sustainability. Our program is open to high school juniors and seniors looking to take a semester of study away from their traditional schools, as well as to students taking a gap year after high school graduation.
We are based in the Sierra foothills approximately 20 miles from Nevada City, California. At Finding the Good, we live closely with the land and learn daily by working hands-on in and with our surroundings. Here, you will not only learn the concepts behind a more simple, sustainable existence; you will grow to understand how those concepts work by cultivating and preparing food for our community, by researching and installing alternative energy sources, by designing green buildings to house yourself and your belongings, and by building and maintaining all of the interpersonal relationships that make our community function. Living and learning become one and the same.
Hempstead Project Heart was created with the attitude that it is time to create an alternative green energy economy built and designed around hemp. This is going to take an infusion of the energy of clear, well thought-out strategies, common sense and responsibility.
We encourage people to look and see for themselves the history, facts, and realities of hemp as a renewable resource.  If you're in agreement we ask that you act on your agreement in ways that are practical for you. We want people to consider hemp energy based on facts not emotions.and make decisions  based on what makes sense.
We are asking that people consider re-establishing our ancestral relationship to hemp as a part of our living reality and use this energy of the past as energy for the future. Our attitude is that hemp as an alternative energy source should not be viewed as a competition to other alternative energy sources, solar, wind, water, etc. There is no environmental competition, there is one environment with many aspects and we believe it's time to bring and weave our many colors into a common direction.
Since 1985, International Rivers has been at the heart of the global struggle to protect rivers and the rights of communities that depend on them. We work with an international network of dam-affected people, grassroots organizations, environmentalists, human rights advocates and others who are committed to stopping destructive river projects and promoting better options. We seek a world where healthy rivers and the rights of local communities are valued and protected. We envision a world where water and energy needs are met without degrading nature or increasing poverty, and where people have the right to participate in decisions that affect their lives.
Based in five continents, our staff has expertise in big dams, energy and water policy, climate change, and international financial institutions. We support partner organizations and dam-affected people by providing advice, training and technical assistance, and advocating on their behalf with governments, banks, companies and international agencies. The focus of our work is in Latin America, Asia and Africa.
International Rivers works to protect rivers and rights, and promote real solutions for meeting water, energy and flood management needs.
The first issue of the Orion Nature Quarterly was published in June 1982, and in its editorial George Russell, the publication's first Editor-in-Chief, boldly stated Orion's values:
"It is Orion's fundamental conviction that humans are morally responsible for the world in which we live, and that the individual comes to sense this responsibility as he or she develops a personal bond with nature."
In the intervening thirty years, Orion has become a focal point in an extraordinarily rich period of nature writing, and it has remained true to that core conviction, though the magazine has evolved into a bimonthly and the range of its interests has broadened to include not only environmental but cultural concerns.
We envision a world of justice, peace, equality and freedom. This vision includes community where differences are respected, conflicts are addressed peacefully, supportive structures are developed, and people are empowered and live in harmony with the earth, nurtured by diverse traditions that foster compassion, solidarity and reconciliation.
We are dedicated to principles of non-violent resolution of conflict. Members may not represent PCNC by spoken or written word that advocates any violent action.
We are not affiliated with any political party or religion. While PCNC is a diverse community of many spiritual, religious, and political beliefs, individuals may not represent PCNC as being a political or religious entity.
Protect American River Canyons (PARC) is an Auburn, CA-based grassroots educational group dedicated to the preservation of the wilderness, recreational, cultural, and historical resources of the North and Middles Forks of the American River and its canyons for all to responsibly care for and enjoy.
PARC sponsors the Confluence Festival, outings and river cleanups. PARC makes public presentations, publishes the American River Guide Book and a seasonal newsletter, and remains alert to the political situation of the canyons.
PARC is a member of the American River Coalition which coordinates American River lobbying efforts. The North and Middle forks of the American River flow west through the scenic canyons of the central Sierra Nevada to its confluence with the Sacramento River in California's capital city. The river's spacious canyons include nationally significant cultural and natural features that draw visitors from all over the world. The Auburn State Recreation Area (encompassing 48 river miles) stretches from Colfax on the North Fork and Foresthill on the Middle Fork to Auburn. SYRCL's Wild & Scenic Film Festival will feature the premiere screening of PARC's North Fork California Wild & Scenic video.
Chilean Patagonia is a remote region of the world where nature, long left to its own devices grows wild, beautiful and largely untouched by man.  As South America's last frontier, the region boasts incredible biodiversity, breathtaking landscapes, essential ecological values, and a remote solitude that is increasingly rare in our burgeoning world.  Dappled with pristine lakes, jagged peaks, ancient glaciers, rushing rivers, coastal rainforests and dry grasslands, the area's diversity is striking and its magnificence unmatched.
Patagonia's rivers are under attack!  A consortium of European and Chilean mega-companies seeks to place a total of five dams blocking the rivers that are the lifeblood in the heart of this diversely rich region.  Two of the dams are slated for the Baker, Chile's longest and highest flowing river. The other three would be built along the Pascua, Chile's third highest flowing river. Both rivers serve critical ecological functions that would be lost forever as a result of damming.
We would like to join the fight for these wild lands and the people who depend on them. As such, we propose to bring a team of talented individuals, including a photographer, an author, cinematographers, local river guides, Chilean journalists and conservationists on a trip down the Baker. This power-packed team of experts will work together to give this threatened area a voice by documenting this incredible natural resource in its pristine state and by highlighting what the area means to the people, plants, and wildlife that make up its ecosystem. We will also use this opportunity to illustrate how this mega-hydroelectric scheme would forever change the face and character of the area and therefore, why it needs to be prevented. The team will create compelling photos, written articles and a documentary film that will convey the beauty, unique quality and ecological importance of the rivers and the surrounding lands. These pieces will delve into the current conflict and the immediate threats facing the people and lands of the Aysén Region.
The intent of this project is to raise global awareness that will garner further support for the existing campaign and will incite people to action at a local, national and international level, thereby increasing the pressure on the hydroelectric companies and the government to protect these important areas.
The San Juan Ridge Taxpayers Association is an association of taxpaying residents and non-resident landowners of San Juan Ridge, Nevada County, united in their concern for responsive and responsible use of tax moneys by state and county agencies; committed to the maintenance of the rural environment of San Juan Ridge; wishing to keep it mostly low-density general forest and agricultural.
Ours is geographically the largest Sierra Club chapter in California – with eleven local Sierra Club groups in twenty-four counties. With our unique grassroots presence we can influence the policies at the city and county level. Our groups foster the protection and enjoyment of natural environment in and around their communities. And we have diverse habitat to protect – from the vernal pool grasslands of the Central Valley to the oak woodlands of the foothills to the conifer forests of the Sierra Nevada.
Our chapter is governed by an Executive Committee of twenty members, nine who are elected at-large and eleven who represent each of our groups. Our Conservation Committee is composed of members who wish to participate on a regular basis. Both committees meet in January, March, May, August and November, usually in Sacramento. Each of our local groups have their own elected Executive Committees to guide their activities.
The Sierra Fund was established in 2001 as the only community foundation dedicated exclusively to saving the Sierra Nevada.
Our mission is to protect and preserve the Sierra for all who love it and who depend on its abundant resources.  We do this by partnering with private donors and public agencies to increase and organize conservation investments in the land, air, water and human resources of the Sierra Nevada.
The Sierra Fund pursues its mission in three ways, all of which are directed by our Integrated Sierra Investment Strategy (ISIS):
Philanthropy – As the region's community foundation for the environment, The Sierra Fund works with private donors to direct their investments and contributions toward those conservation efforts offering the most strategic impact.  Our various funds have granted nearly $1.5 million in the past eight years.
Advocacy – We showcase private investment and demonstrate regional need to leverage public recognition of and investment in the region, at both the state and federal level.  Our efforts have directed more than $105 million to the region and spearheaded establishment of critical new programs such as the Sierra Nevada Conservancy.
Strategic Campaigns – Our unique strategic outlook directs both our Philanthropy and Advocacy, and allows us to identify and foster new campaigns to protect and restore the Sierra's natural resources.

Sierra Streams Institute is a watershed monitoring, research, and restoration group based in Nevada City, California, in the Sierra Nevada foothills. Our mission is to promote community stewardship and scientific knowledge of watersheds through monitoring, research, restoration, and education. Founded in 1995 as Friends of Deer Creek, SSI has grown to become an important voice in the regional scientific community—but we are still proud to call Deer Creek our home watershed.
Sierra Streams Institute is a regional watershed science organization based in Nevada City, California, dedicated to increasing watershed stewardship capacity throughout the Sierra Nevada region and beyond. Although much of our work takes place in the watershed of Deer Creek—a major tributary of the Yuba River, which drains to the Feather River, the Sacramento River, and ultimately the San Francisco Bay—SSI is proud to be a vitally important voice in the regional scientific community. We work with local, state, and federal agencies as well as universities and community groups to find solutions to the problems that afflict Deer Creek and other watersheds throughout the region that share the challenges resulting from a century and a half of gold mining, development, and agriculture. SSI's emphasis on rigorous science and consistent data collection provides the basis for restoration decisions that are made on behalf of Deer Creek and other Sierra streams, and makes us an especially valuable partner of local and state government agencies who lack the funding and capacity to gather their own data.
From experience we have learned that in addition to conducting research, it is imperative to impart an understanding of the issues we are studying to the public and to work closely with local government entities to solve local problems. This is essential in order to enable the public to contribute an educated guiding voice to the governing process. As an organization we have chosen to accomplish this task through education and involvement rather than political means.

In December of 2000, a small group of Sierra residents and local homeowners learned about impending plans to develop Tahoe's Martis Valley, and they decided to do something about it. They quickly discovered similar threats throughout the Sierra. What they could not find, however, was an organization with the capacity and expertise to stand up to irresponsible development and effectively advocate for lasting conservation. So they formed Sierra Watch – and launched the ambitious Martis Valley Campaign.
Sierra Watch mobilized hundreds of volunteers to participate in the public planning process, commissioned biologists and planners to create an alternative blueprint for responsible development, and even filed public interest lawsuits to uphold state law. Most important, Sierra Watch sat down with our conservation allies, Martis Valley landowners, and local political leaders to collaborate on creative resolutions to pressing planning issues.
The results are unprecedented: permanent protection for thousands of acres of priority conservation land, caps on future development, and $100 million in private funding to help protect more of the Martis Valley landscape.
In recognition of the Sierra Watch role, The Truckee Donner Land Trust and the Trust for Public Land thank us for our "leadership and vision in protecting the natural beauty and resources of the Martis Valley."
Our work, of course, is not done. Sierra Watch is actively following through with conservation goals for Martis Valley and Donner Summit. In Lassen County, we are providing strategic resources to defend Dyer Mountain – consistently providing an effective and inspiring example of how we can work together to protect the places we love.
Wildlife Rehabilitation & Release (WRR), based in Penn Valley, is a local volunteer group who rescues and attends to orphaned and injured wildlife.  The local group works to save injured and orphaned wildlife from six counties of the California foothills and the valley below. For over 23 years, they have provided highly trained rehabilitators dedicated to serving all wildlife in our cities, riparian communities, oak woodlands, Ponderosa pine forests and open grasslands.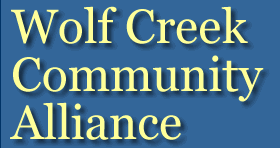 Wolf Creek Community Alliance (WCCA) exists to: 1) preserve and protect Wolf Creek and its watershed for the benefit of present and future generations; 2) engender community stewardship of the creek and its watershed; 3) restore the creek to a condition of optimal health and integrity; 4) monitor the physical, chemical, and biological condition of the creek; and 5) thrive as an organization and thereby have a long-lasting presence and beneficial impact in the watershed.
WCCA is a volunteer-run 501(c) (3) non-profit organization. Our goals are closely aligned with the EPA Strategic Plan for improving water quality on a watershed basis, protecting/restoring watershed and aquatic ecosystems by increasing community awareness and understanding of water quality problems in the Wolf Creek watershed, and promoting programs and projects to protect and restore the watershed.
WCCA is the only local group whose activities are focused primarily on cleaning up Wolf Creek and restoring this neglected community resource to a condition of optimal health and integrity.
The International Women's Earth & Climate Action Network (WECAN)  engages women grassroots activists, indigenous and business leaders, policy makers and culture-shapers in collaboration. Our goal is to stop the escalation of climate change and environmental and community degradation, while accelerating the implementation of sustainability solutions through women's empowerment, partnerships, hands-on trainings, advocacy campaigns, and political, economic, social and environmental action.
WECAN  was created to accelerate a holistic Global Women's Earth & Climate Action Movement. Our five-point plan for the first two years' of action in 2013 and 2014 includes:
Online Action & Networking Platform (launching on International Women's Day, March 8, 2013) – to spark project collaborations, sustainability business opportunities, and campaigns designed to advance long-term cross-cultural, cross-sector, cross-generational and cross-socioeconomic networking and mobilization.
International Day of Action – creating a global photo mosaic of women promoting the slogan "Women for Earth and Future Generations".
The International Women's Earth & Climate Summit (20-23 September 2013, New York) – an unprecedented gathering of women leaders dedicated to addressing solutions for climate change and environmental degradation.
Solution Spotlight, Projects & Action Campaigns – promoting best-practice solutions, on the ground sustainable projects , business and trainings that deliver benefits to both women, communities and the environment, and engaging in action campaigns focused on the most pressing issues.
North American Regional Gathering – To engage women in the United States to mobilize together in support of concerted climate change solutions for the US.
Woolman (at the Sierra Friends Center) is a nonprofit educational community dedicated to the principles of peace, justice and sustainability. Originally founded in 1963 as a Quaker high school, today Woolman offers a 16-week high school semester program for teens, retreats for adults, and summer camps for children and families. The name was inspired by John Woolman, an 18th century Quaker human rights activist, who aspired to live his life in complete integrity with his principles.
Located on 230 acres in the Sierra Nevada Foothills within walking distance of the Yuba river, the Woolman campus is an experiment in sustainable community living. Most of our produce is grown here in our organic garden, much of our energy is from solar, wood, and other renewable resources, and the ideas of Permaculture and conservation are infused in the community culture. As a Quaker community we welcome people of all backgrounds, and do not require any religious beliefs. While many of our staff and participants are not Quaker, the Quaker ideals of inquiry-based education, consensus decision making, peace, equality and integrity are fundamental to our shared endeavor.