Music at Wild & Scenic
2015 Festival Music Schedules COMING SOON! 
2014 Music Schedule
Friday Night Opening Bands (Included with your Friday Evening session pass)
6pm, Vet's Hall
Ishaan Judd: Organic folk rock singer-songwriter Ishaan Judd combines the natural tone of acoustic instruments with a home town vibe. Strong bonds with family and the natural elements inspire his writing that is known to include introspective material. Ishaan was voted Nevada County's 'Best Local Artist' by the Union readers. www.ishaanjudd.com
6pm, The Stone House
Goodshield Aguilar and Mignon Geli: Goodshield Aguilar is a Turtle Island Native Oglala Lakota and Pasqua Yoeme heritage. His styles range from traditional drumming and singing, to acoustic melodies with spoken word, to funky dance grooves to hard rock. He is a multi-instrumentalist, playing drums, guitar, bass, mandolin, banjo, piano, and flute. He is best known for his solo acoustic performances, strumming an acoustic guitar while pounding on a bass drum with his foot and belting out Indigenous chants, singing, and spoken word.
Mignon Geli is of Filipino and Spanish ancestry, born in San Francisco and currently living in the sierra foothills. Nine years ago, she was gifted with her first native wood flute, self-taught, and then added native drums to her repertoire. She can flute along just about any genre of music from traditional native to contemporary native, to folk, rock, jazz, funk, soul, etc. She is a member of the Neena McNair Family Singers, an intertribal women's native traditional Drum group. www.goodshieldaguilar.bandcamp.com
6pm, Nevada Theatre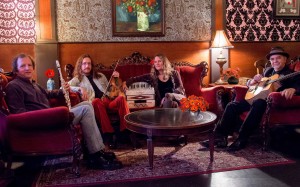 Beaucoup Chapeaux:  Together since 2009, with nearly 400 concerts played in California and the Pacific Northwest, we're still having fun. It's been written that Beaucoup Chapeaux is uniquely talented, an astonishing juggernaut, our music hauntingly wild, gorgeous. We like that!  It's also been written we're part Parisian Bistro, Italian Café, or circus, altogether eccentric. That's good too!  www.beaucoupchapeaux.net
6pm, Oddfellows
George Cutter and Robbert Trice: Singer/songwriter George Cutter and harmonica player Robbert Trice play jazz style originals and twisted covers.
5:30pm, Miners Foundry Osborn/Woods Hall
Agony Hill:  The musicians of Agony Hill – Charlie Brock (mandolin, banjo, guitar,& vocals), Margot Duxler (fiddle), Rob Ferroggiaro (rhythm guitar &vocals) and Frank Lawrence (bass & vocals) – joyfully bring together their diverse musical tastes and backgrounds to create and share great music. Their repertoire consists of original works by Charlie Brock, covers of well-loved songs, as well as seldom-heard gems.
6pm, Miners Foundry, Stone Hall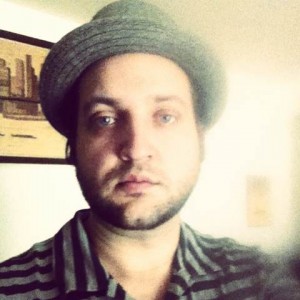 Aaron Ross:  While much of Ross' music focuses on the mythical America with it's broken dreams, bucolic family moments and unprecedented military power, there is a sly thread of humor running through his work that's often underestimated. Song titles like "The Beast Of Both Worlds," "Enemy Of The State Of Mind" and "In Through The Out Of Order Door" hint at a playfulness that's often lacking among modern songwriters. With a poet's penchant for wordplay and a wide-eyed attitude toward music production, Aaron Ross has earned his place as one of Nevada County's most gifted musicians and songwriters.  www.aaronross.bandcamp.com
6pm, Grass Valley Center for the Arts
Andjru Werderitsch and Phil Garrison:  Andjru has performed on percussion and Didjeridu for television, theatre and numerous international artists including Suzanne Teng and Mystic Journey, Craig Kohland and Shamans Dream, Yuval Ron, and The Open Door Orchestra.  Phil has been an active part of the Netlabel music scene since early 2006, and has released a steady stream of albums, singles, collaborations and remixes under the name Wavespan.  Phil's ambient electronic soundscapes and processed field recordings provide an ideal backdrop for Andjru's tribal grooves and rhythmic Didjeridu phrasing, creating immersive environments of sound.  They are pleased to share this synthesis of nature and technology with the Wild and Scenic Film Festival.  www.andjru.com
6pm, Yuba River Charter School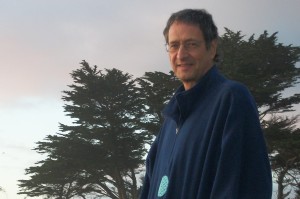 Nory Fussell:  Nory Fussell moved to Nevada County 34 years ago because of this river. His songs reflect the Joy, Fun and love for life that Yuba blesses us with – songs of community and critters, struggles and celebration, economics and employment. When he's not making music, you'll find Nory in the garden or on a trail, deeply in love.
Late Night Music at the Stone House

Saturday Night, 10pm-1:00am
The Dustbowl Revival is a Venice, California-based roots collective that merges old school bluegrass, gospel, jug-band, swamp blues and the hot swing of the 1930's to form a spicy roots cocktail. Known for their inspired live sets, the Dustbowl Revival boldly brings together many styles of traditional American music. Growing steadily from a small string band playing up and down the west coast (hundreds shows in the last two years), DBR has blossomed into a traveling collective featuring instrumentation that often includes fiddle, mandolin, trombone, clarinet, trumpet, banjo, accordion, tuba, pedal steel, drums, guitars, a bass made from a canoe oar, harmonica and plenty of washboard and kazoo for good luck. www.dustbowlrevival.com