Wild & Scenic Arts and Lectures

SYRCL is pleased to be offer a second season of events in addition to our celebrated film festival–Wild & Scenic Arts and Lectures–that feature innovative and engaging speakers and films to discuss what it means to live more sustainably on this extraordinary planet we inhabit.  We feel privileged to participate in such a sophisticated, deep thinking,  and attentive community.  We look forward to bringing you some of the best thinkers of our time to dive into these prescient conversations.  We look forward to seeing you!
2014 Calendar
Thursday March 20, 7:30pm: William L. Fox: The Center for the Arts 314 W Main St. Grass Valley, CA
ART OnSite, Nevada County Arts, and Wild & Scenic Film Festival Art & Lectures present
ART AND THE ENVIRONMENT: THE ART OF THE ANTHROPOCENE
Bill Fox, Director of the Center for Art +Environment at the Nevada Museum of Art plus a conversation moderated by Melinda Booth of SYRCL's Wild & Scenic Film Festival, and Q&A
Doors 7pm, Presentation 7:30pm
$15/GA, $10/Members, $5/Students
Art, not just for art's sake, but Art that walks in the world.
Art Critic, Author, and Cultural Geographer, William L. Fox takes audiences on a profound and delightful adventure to discover how artist's depiction of the natural world, dating back to the 1700s and leading up to present day art displays at Burning Man, has evolved in reaction to human-caused global changes.  Fox's passion for landscape, human cognition and history collides with his scholar's curiosity and power of analysis to produce one of the most engaging discussions yet on art and the environment.
William L. Fox has researched and written books set in the extreme environments of the Antarctic, the Arctic, Chile, Nepal, and other locations. He is a fellow of both the Royal Geographical Society and Explorers Club and he is the recipient of fellowships from the Guggenheim Foundation, National Endowment for the Humanities, and National Science Foundation. He has been a visiting scholar at the Getty Research Institute, Clark Art Institute, the Australian National University, and National Museum of Australia.

2013 Calendar
Thursday November 14, 7pm: Dan Flores
Nevada Theatre, 401 Broad St. Nevada City, CA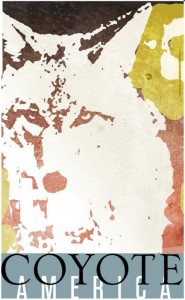 The coyote's stunning ability to live alone or in groups, its spread from the Great Plains across the continent, and its success in a land where rampant environmental change and spreading cities have so altered the landscape renders it remarkably similar to another successful species: humans. From the coyote, we can learn a great deal about ourselves.
Join SYRCL and historian and author Dan Flores on November 14 as he presents his new book in the works, Coyote America: A Natural and Supernatural History.
Dan Flores has held the A. B. Hammond Chair in Western History at the University of Montana since 1992.  His specialty is the environmental and cultural history of the American West.  He is the author of eight books, most recently Visions of the Big Sky (2010), Caprock Canyonlands (a 20th anniversary edition, 2010), and The Natural West (2002).  His essays on the environment, art, and culture of the West also appear in magazines such as Texas Monthly, Orion, Southwest Art, The Big Sky Journal, and High Country News. His work has been honored by the Western History Association, the Western Writers of America, the Denver Public Library, the National Cowboy Museum, the Oklahoma Book Awards, the University of Oklahoma Press, the Montana Historical Society, the Texas State Historical Association, the High Plains Book Awards, and the Montana Book Awards.  His next book is Coyote America: A Natural and Supernatural History.

 Past Events
_________________________________________

Wednesday May 15, 7pm: Doug Ammons: Nevada Theatre, 401 Broad St., Nevada City, CA
"Ammons is one of the top ten game-changers in adventure since 1900. What Reinhold Messner did for alpinism, Ammons did for kayaking."
— Outside Magazine
Doug Ammons is a Montana native and has been a world class kayaker for the last 25+ years, doing dozens of expedition first descents of rivers around the world. He is particularly known for his outrageous solo descents of wilderness Class V+ and VI runs. His solo run of the Grand Canyon of the Stikine River was equated by Outside Magazine to Himalayan climber Reinhold Messner's epic solo of Mt. Everest, earning him a place in Outside's "top ten game-changers in adventure since 1900". He writes regularly for adventure publications and has published The Laugh of the Water Nymph and a second book Whitewater Philosophy, named by the Wall Street Journalas "one of the five best all-time outdoor adventure books".
Doug has done documentaries for National Geographic, ESPN, and the Outdoor Life Network, four of which won Emmy Awards for their cinematography. He wrote scripts, played guitar on the soundtracks, and won an Emmy as a cameraman for Action Cinematography.
May 15: Riverscapes
Expedition kayaker and PhD psychologist Dr. Doug Ammons shares a multi-media presentation "Riverscapes," exploring how river shape both the land and the human cultures that live along them. In 2010, Ammons was named by Outside Magazine as "one of the top ten game changers in adventure since 1900" for his pioneering whitewater kayaking expeditions. He weaves together his knowledge of adventure and psychology for an evening of inspirational ideas about how cultural beliefs reflect the physical world. Join us in a talk about the science and psychology of striking landscapes shaped into a sacred universe.
Tickets available here or at the SYRCL office, 216 Main Street in Nevada City, CA. Call (530) 265-5961 with questions.
Thursday December 6, 2012: Terry Tempest Williams
SYRCL's Wild & Scenic Arts and Lectures, Hospitality House, and Finding the Good Traveling Semester are excited to be hosting an evening with author, conservationist and activist Terry Tempest Williams at the Don Baggett Theater.
Terry Tempest Williams has been called "a citizen writer," a writer who writes and speaks out eloquently on behalf of an ethical stance toward life. A naturalist and fierce advocate for freedom of speech, she has consistently shown us how environmental issues are social issues that ultimately become matters of justice. "So here is my question," she asks, "what might a different kind of power look like, feel like, and can power be redistributed equitably even beyond our own species?"
Williams, like her writing, cannot be categorized. She has testified before Congress on women's health issues, been a guest at the White House, has camped in the remote regions of Utah and Alaska wildernesses and worked as "a barefoot artist" in Rwanda. Known for her impassioned and lyrical prose, Terry Tempest Williams is the author of the environmental literature classic, Refuge: An Unnatural History of Family and Place; An Unspoken Hunger: Stories from the Field; Desert Quartet; Leap; Red: Patience and Passion in the Desert; and The Open Space of Democracy. Her book Finding Beauty in a Broken World, was published in 2008 by Pantheon Books. She is a columnist for the magazine The Progressive.
In 2006, Williams received the Robert Marshall Award from The Wilderness Society, their highest honor given to an American citizen. She also received the Distinguished Achievement Award from the Western American Literature Association and the Wallace Stegner Award given by The Center for the American West. She is the recipient of a Lannan Literary Fellowship and a John Simon Guggenheim Fellowship in creative nonfiction. In 2009, Terry Tempest Williams was featured in Ken Burns' PBS series on the national parks.
Terry Tempest Williams is currently the Annie Clark Tanner Scholar in Environmental Humanities at the University of Utah. Her writing has appeared in The New Yorker, The New York Times, Orion Magazine, and numerous anthologies worldwide as a crucial voice for ecological consciousness and social change. She and her husband, Brooke Williams, divide their time between Castle Valley, Utah and Jackson Hole, Wyoming. Her most recent book, When Women Were Birds, was published in Spring 2012, and will be available at the event, which will be followed by a book signing.
Tickets go on sale November 1.  $45 general/$40 SYRCL members  |  $80 includes event and intimate reception with Ms. Williams  |  $18 student (limited number available).
"At the heart of all [Williams'] work— as a writer, a naturalist, and a crusader for protection of the nation's wilderness…the common theme is restoration: restoring our connection to the land, to the sacred, and to each other."
— Utne Reader
_____________________________________________________________________________
Thursday November 8, 7:30pm: David Abram
SYRCL's Wild & Scenic Arts and Lectures and The Center for the Arts present author David Abram for an engaging evening.
"Speculative, learned, and always lucid and precise as the eye of the vulture that confronted him once on a cliff ledge, Abram has one of those rare minds which, like the mind of a musician or a great mathematician, fuses dreaminess with smarts."  -The Village Voice
David Abram is a cultural ecologist and geo-philosopher who lectures and teaches widely on several continents. He is the author of Becoming Animal: An Earthly Cosmology (Pantheon, 2010), and The Spell of the Sensuous: Perception and Language in a More-than-Human World (Vintage, 1997). Hailed as "revolutionary" by the Los Angeles Times, as "daring" and "truly original" by Science, David's work has helped catalyze the emergence of several new disciplines, including the burgeoning field of ecopsychology.
David has been the recipient of various awards and fellowships, including the international Lannan Literary Award for nonfiction. His essays on the cultural causes and consequences of environmental disarray are published in numerous magazines, scholarly journals, and anthologies. Founder of the Alliance for Wild Ethics (AWE), David lives with his family in the foothills of the southern Rockies.
Save the date to join us for an unforgettable evening.  Tickets are on sale at The Center for the Arts & Briar Patch Co-op.  $20 general, $18 members, $10 student
"Prose as lush as a moss-draped rain forest and as luminous as a high desert night. . . Deeply resonant with indigenous ways of knowing, Abram lets us listen in on wordless conversations with ancient boulders, walruses, birds, and roof beams. His profound recognition of intelligences other than our own enables us to enter into reciprocal symbioses that can, in turn, sustain the world. Becoming Animal illuminates a way forward in restoring relationship with the earth, led by our vibrant animal bodies to re-inhabit the glittering world."
- Orion