NEW HEADQUARTERS LOCATION FOR 2016!
Festival Headquarters will be located at the historic National Hotel, 211 Broad Street, downtown Nevada City!
The National Hotel is a registered historical landmark listed in the National Register of Historic Places and is the oldest, continuously operating hotel west of the Rocky Mountains.  As you arrive, you step back into the Victorian era. In the old days, gold dust was the medium of exchange here. It was traded for 12 1/2 cent tokens, some of which can be seen, along with other artifacts, in the hotel's museum cabinet in the lobby.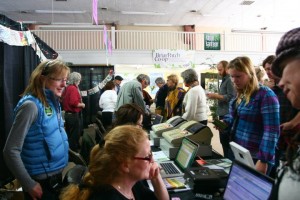 The Fest HQ is not only the place where you buy or pickup your weekend passes and session tickets – visiting the HQ you can view featured artwork, buy festival merchandise, ask a question about Nevada City or Grass Valley and find out more about the Yuba Watershed and SYRCL!
Ticket Purchases & Will Call
Will Call tickets will be available for pickup at Festival Headquarters beginning January 15, 2016.
Festival HQ Will Call Pick Up Hours are as follows:
Friday, January 15, 2016: 10 am – 9 pm
Saturday, January 16, 2016: 9 am – 9 pm
Sunday, January 17, 2016: 9 am – 6 pm
During the Film Festival weekend, visit Festival Headquarters for all ticket questions.
Official Festival Merchandise Store
Buy something commemorative from the Wild & Scenic Store: hats, festival posters, visors, patches, water bottles, tees, sweatshirts, an adorable "I'm Wild & Scenic" onesie for your favorite baby, and more!
Wild & Scenic HQ Lounge
Sit back, relax and just take it all in. Whatever you do, just make sure you stop by the HQ Lounge during the weekend.
Free WiFi
Filmmakers, members of the press, and festival-goers are invited to enjoy free WiFi and a comfortable setting to meet, connect and network.
Wild & Happy Hour
Start Sunday's wine, beer and art stroll at HQ, 4-6pm.  $15 ticket for 6 tastings and a commemorative cup.
National Partner Booths
Check out what our National Partners are up to! Learn about their environmental responsibility, snag a surprise, and thank them for making Wild & Scenic possible.
On Tour 
Wild & Scenic hits the road with the 2015 films in February.  Visit our On Tour team and table in Fest HQ to learn how to bring Wild & Scenic to your community.
Official Shuttle Stop
Hop on the shuttle from downtown Nevada City to easily access film sessions at the Elks Lodge or for all of the film venues and special events happening in Grass Valley.
Hotel Bar
The National Bar or, "The Nash" as locals refer to it – is an old style, saloon type bar – a favorite to both locals and visitors alike. Be sure to check out the ornate back bar, originally from the dining room buffet in the Spreckels Mansion, San Francisco.