Workshops are FREE TO TO THE PUBLIC!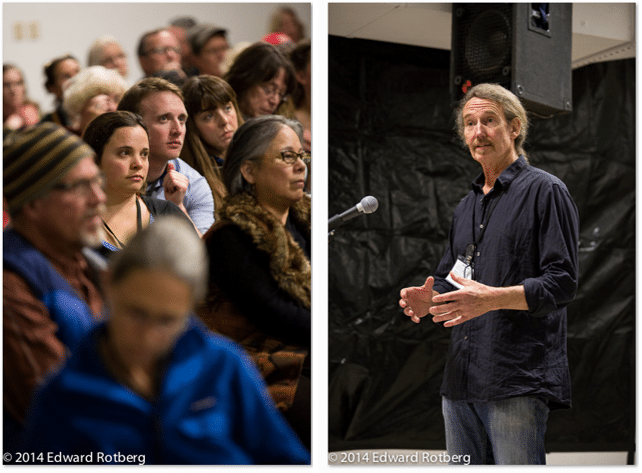 We'll have special workshops, coffee talks & presentations around Nevada City throughout the Film Festival weekend. Learn more about the issues and what you can do, get filmmaking tips from pros, and much more at our Activist Center at Nevada City's City Hall.

Saturday Workshops
January 16, 2016; 9:00am – 5:30pm
City Hall, 317 Broad Street, Nevada City
Using Film for Grassroots Activism
9:00am -11:00am
Join award-winning filmmaker Francisco Campos-Lopez for an introduction to the world of environmental filmmaking. This hands-on workshop will expose you to the basics—a survival kit for needed tools and filming in the field; techniques for recording testimonies in the field, and essential tips and tricks for capturing those must-have shots to effectively tell your story as well as constructing a compelling script.
Storytelling for Activism
11:30am-12:30pm
Each of us has a unique personal narrative. A special place shared with Dad, a forest romped in as a kid, a serene river contemplated as a teen. In this session, we will explore how connection to
the heart, as well as the mind, leads to captivating and compelling storytelling in the conservation realm, and how we approach why we do what we love, to protect the places where we thrive.
Join Sinjin Eberle, Associate Director of Communications for American Rivers to explore film, words, photography and other communication tools.
Bridging the Indie Gap: A Practical Workshop for Making a Big Splash with Your Little Indie
1:00 – 2:00pm
A film marketing, audience engagement, festival strategy, and DIY release workshop designed to help indie filmmakers put their best foot forward and bridge what we've come to call "The Indie
Gap," which is the divide between filmmaking as a hobby and a sustainable career as filmmaking as an independent filmmaker. Presented by Ryan Davis and Brad Wilke of Smarthouse Creative.
Smarthouse exists to help movies, filmmakers, artists, and events of all sizes find their audience in the changing world of exhibition and production.
Rivers and the Birth of Environmentalism
3:00-4:00pm
A number of historians of the environmental movement argue that the success of David Brower, the Sierra Club, and various environmental organizations in killing dams on the Green River and in
Grand Canyon signaled the birth of environmentalism. Join Kenneth Brower, David Brower's son, in a discussion of the centrality of rivers and river-running in the creation of this movement.
The Most Urgent Untold Environmental Stories of our Time
4:30pm – 5:30pm
What are the most urgent environmental stories that remain untold? Do today's leading scientists and environmental leaders see things differently than the general public? Join Switzer Foundation Executive Director Lissa Widoff as she presents a first-look at findings from a survey of  Switzer Fellows, nearly 600 leaders in non-profit, public policy, business, academic and government sectors working to solve today's environmental challenges.   This panel will compare results from a second, public survey and look at solutions as well as problems. If you are a filmmaker, activist, or just a concerned citizen of planet earth, and looking for a good story, or in need of a scientist to help tell it, this session will provide insight into the lesser-told stories of future environmental concern. Session will include 2-3 short talks and interactive discussion.
Moderator & Speakers will include: Lissa Widoff, Executive Director, Robert and Patricia Switzer Foundation; Dustin Mulvaney, PhD, Assistant Professor, San Jose State U. (2004 Switzer Fellow). The surprising role that US public lands play in energy production; Sue Chiang, Pollution Prevention Director and Healthy Energy Campaign Director at Center for Environmental Health (1997 Switzer Fellow). The latest dangers and issues concerning hydraulic fracturing in California and nationally; Margaret Torn, Program Head of Climate Change and Carbon Sciences Program at Lawrence Berkeley National Lab (1990 Switzer Fellow). New research from LBNL – threats to the arctic and why we can fix it; Frances Moore, PhD, is Ciriacy-Wantrup Fellow at UC Berkeley Dept. of Agriculture and Resource Economics and a 2009 Switzer Fellow post-doc. Ms. Moore looks at how we value the future from a climatologists perspective.
Sunday Workshops
January 17, 2016; 10am – 5pm
City Hall, 317 Broad Street, Nevada City
Conservation Adventure Filmmaking
10:00am -11:00am
"As an outdoor adventure photographer and filmmaker I am constantly shown, first-hand, the realities of the environmental crises facing our planet. Through these visceral experiences, I have made a commitment to use my art to help bring awareness to these environmental crises," said James Q Martin. Join Q and other filmmakers who will show vignettes of their work and discuss the process of filmmaking. This interactive workshop encourages audience questions that address the nitty gritty of the filmmaking process.
California Burning: Megafires, Wildfires & Prescribed Burns
11:30am -12:30pm
Kelly Martin, Yosemite's Chief of Fire and Aviation, John Buckley, who heads the Central Sierra Environmental Resource Center, UC Davis forest ecologist Malcolm North, and Kevin White, director of The Fire Next Time, speak about the Rim Fire, the 2015 fire season, and the future of Sierra Nevada forests in this century of climate change. The impact of megafires and the use of fire to make forests healthier and more resilient are among the subjects they will discuss, with Q & A.
California & Cannabis
1:00-2:00pm
California has long been a leader in cannabis. Even during the most intense eras of prohibition through the 1980's, cannabis flowered in California. Hard work and vision made California a
pioneer in 1990's when our state was the first in the nation to legalize medical cannabis, starting a wave of political reform that is still strong. California has passed regulation for commercial activity and several initiatives propose to legalize adult use. As activists, we are bringing all of those elements—time honored heritage, hard work and vision, innovation and investment—together to shape the policies that will empower us to build the dynamic cannabis industry that will continue to lead. This workshop will focus on the question of legalization and how the diverse perspectives and interest groups are working to come together to put that question to the voters.
CA H2O: New Dams or Bust?
2:30-3:30pm
With a new 220' tall dam proposed for an 110,000 acre-foot reservoir on the nearby Bear River, and even larger dams proposed elsewhere in California, many experts argue that these dams are
a critical answer to persistent drought and climate change. Should environmentalists oppose all new dams? Or should some of these dam proposals be supported? Come join in the discussion
with a panel of local and state water managers and environmentalists.
Trapping and Trucking Salmon Around Dams – Restoring Connections or Betraying the Wild?
4pm – 5pm
In May 2015, a weighty partnership announced a proposal to restore Yuba River salmon by building new facilities and operations to trap and transport the fish to and from the North Yuba River.
In this workshop, a panel of presenters will dialogue with participants to explore the controversial "trap and truck" proposal with specificity to the local wild and scenic values, issues of sustainability, and the imperative to recover threatened salmon and steelhead from risk of extinction. Moderated by Mark Rockwell (Endangered Species Coalition) and panelists to include Gary Reedy, SYRCL's Senior River Scientist.
SPECIAL ENVIROTEEN SUMMIT @ CENTER FOR THE ARTS
Teen Workshop: How are YOU Changing the World?
Saturday, 1pm-3pm
The Center for the Arts, Grass Valley
Every person makes a difference, and teens have the power to change the world. Join us for the WSFF teen summit, moderated by activist, Julia Butterfly Hill. Julia will share her story, including the two years she lived in a redwood tree to save a forest. Julia will encourage teens to share their experiences and how they're making an impact. The discussion highlights teen involvement in outdoor education, adventure travel, restoration, and activism. This is an open discussion event, encouraging sharing, questions, and networking of youth leaders from around the globe.
FREE to the public.