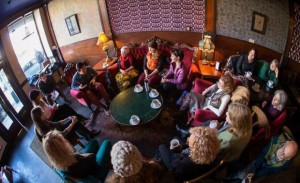 We'll have special workshops, coffee talks & presentations around Nevada City throughout the Film Festival weekend. Learn more about the issues and what you can do, get filmmaking tips from pros, and much more at our Activist Center at Nevada City's City Hall.
Workshops are FREE TO TO THE PUBLIC!
 2016 WORKSHOP SCHEDULE COMING SOON
Saturday Workshops (2015)
January 17, 2015; 9:30am – 5pm
City Hall, 317 Broad Street, Nevada City
Eddy Out!: Pausing to Find a New Activism
9:30am – 11:00am
This soulful workshop provides a welcoming space to pause in the turbulent flow of our lives to reflect and interact with others on how we might deepen our activism and connect profoundly with our mission and each other. Through a linked series of a guided mediation, a synergistic exercise, sharing and singing, we will awaken our collective power to heal the world with compassion, grace and courage. Come prepared to take a deep breath and honor your passion for this grand world with facilitators Mark Dubois, Tania Carlone, and Elizabeth Soderstom.
Colorado River
11:30am – 1:00pm
This workshop spotlights the Colorado River Basin. Flowing through 7 states and quenching the thirst of 36 million people the Colorado River is the lifeblood of the Southwest. As one of American Rivers Most Endangered Rivers in 2013 and 2014, the river is in dire need of solutions and support. This workshop will highlight the spectacular landscapes, threats, and reasons for hope that inspire stewardship of this iconic river. Sinjin Eberle (American Rivers) will host the workshop, along with special guests filmmaker James Q Martin and author Kevin Fedarko.
Investigative Journalism for Documentary Filmmaking
1:30pm – 2:30pm
Join writer/director Denis Delestrac (Sand Wars) in discussion about the core fundamentals of investigative journalism when the goal is a film rather than a printed piece. Both employ aggressive reporting and research, with accuracy, clarity and ethical practices being key. How can the storytelling styles and imagery reflect the tone of the reporting? What are the most critical factors to keep in mind when embarking on a documentary that is investigative in nature? Learn how a print journalist or photo-journalist can take the next step into the world of documentary film making.
Marijuana Grows as a Watershed Issue
3:00pm – 4:00pm
How can we support a sustainable marijuana growing industry that protects our watersheds? Many large scale marijuana grows are negatively impacting California's watersheds through the overuse of chemical pesticides, herbicides, and fertilizers, diversion and storage of water, and alteration of the terrain and vegetation. Join us for a viewing of the film Marijuana Grows and Restoration and a panel discussion on marijuana environmental impacts from the perspective of growers, scientists, activists, and law enforcement from the North Coast/Emerald Triangle to the Valley to the Sierra Nevada.
Adding Science to Adventure: Gregg Treinish
4:30pm – 5:30pm
Recognizing that the relationship between humans and the natural world are ever-changing, Adventurers and Scientists for Conservation ED Gregg Treinish has created his life's work around helping to connect volunteers to data collection efforts, catalyzing global conservation initiatives. Gregg will lead an engaging interactive discussion on how everyday adventurers can make a difference in the natural world around us. Also present at the forum will be other special guests who have also helped to draw the connection between science and adventure.
Sunday Workshops (2015)
January 18, 2015; 9:30am – 4:15pm
City Hall, 317 Broad Street, Nevada City

Sunday Morning Coffee Talk presented by Earthjustice
8:30am at Fest HQ, Nevada City
Water in California
What's more valuable than a house in San Francisco? Water in California. Water is the lifeblood of California and up to 60 percent of its water supply comes from the myriad of rivers and streams that drain the west slope of the Sierra Nevada Mountains. Join Earthjustice Attorney Greg Loarie in a conversation about the ongoing fight to protect California's waters from rampant pollution, degradation, and industry water grabs. As we journey from the headwaters of the Sierra forests through the San Francisco Bay Delta, we will also look back at Earthjustice's work over the last decade to protect this vital resource for the future of both people and wildlife.
A New Vision for Historic Gold Mines
9:30am – 11:00am
In Nevada County everyone has a historic mine in their backyard. More often than not these lands represent blighted and contaminated areas that nobody wants to address. There have been several recent proposals to reopen gold mines in Nevada County but are there alternative uses that have a greater net benefit to our rural communities? Join acclaimed land reuse expert, Ignacio Dayrit from the Center for Creative Land Recycling, and local visionaries for a workshop on alternative uses of our historic mine lands. You'll learn about steps that have been taken to reclaim abandoned mine lands in Nevada County and beyond. Join us and contribute your ideas on this fascinating topic.
Author Craig Childs: Book Preview
11:30am – 12:30pm
Time Traveler's Notebook: For a forthcoming book, Craig Childs has been tracking the first people to enter North America during the Ice Age. His travels have ranged from Alaskan icefields to backwoods rivers in the Deep South. This presentation is about the process of mixing science, journalism and on the ground adventures into a final project conveying the ancient history on what was once an unknown continent.
12:45pm – 1:45pm
Ever wonder how to achieve a goal that feels impossibly out of reach? The High Fives Foundation, a nonprofit dedicated to raising money and awareness for athletes who have suffered a life-altering injury while pursuing their dream in the winter action sports community, has a five-star system to make that happen. Tony Schmiesing, featured in The Edge of Impossible (screening Saturday morning at Osborn/Woods Hall and Saturday afternoon at The Center for the Arts) will walk you through how he incrementally increased his boundaries and reached his ultimate goal: heli-skiing in Alaska, the first quadriplegic to do so. Roy Tuscany, founder of the High Fives Foundation, will moderate the discussion.
California Rivers in a Time of Water Insecurity
2:00pm – 3:00pm
Come learn how to protect public waters in modern times. Fears of water scarcity escalated in 2014 and California passed a bond initiative that includes $2.7 billion for new water storage. While agricultural water demands increase and new dam proponents threaten repeal of Wild and Scenic, more than half of our fishes are vulnerable to extinction, and many people do not have access to safe drinking water. Gary Reedy (SYRCL) will moderate a panel that includes leaders from river conservation organizations, and Colin Bailey (Environmental Justice Coalition for Water; Thirsty for Justice, screening Saturday night at the Stone Hall and Sunday morning at Elk's Lodge).
#EnviroTeens
3:15pm – 4:15pm
The Wild and Scenic Film Festival inspires activism—at all ages. Teens, come network! Be inspired by today's youth! In a panel discussion, we will hear from teenagers who tackle issues like plastic bag use, captive animal care, and climate change via direct action, education, and the arts. These students are leading the way to a better planet by activating their passion for the environment.